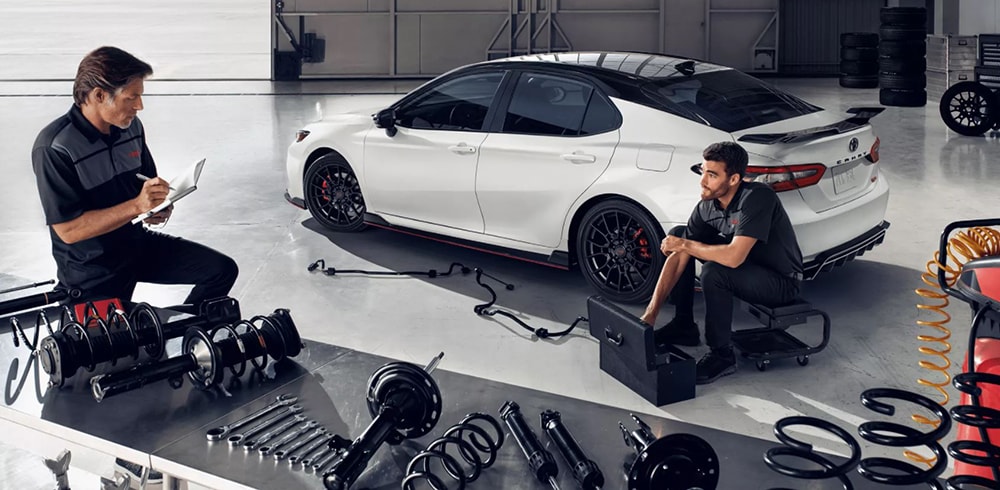 When you purchase a new Toyota, you can enjoy free maintenance and roadside assistance. This program is referred to as ToyotaCare, and it can save you a bundle in maintenance and towing fees. This warranty program is only offered on new Toyota models, not used ones.
What is ToyotaCare?
ToyotaCare is essentially a warranty program for owners of newly purchased Toyota models. It includes standard factory scheduled service for a period of two years or 25,000 miles, whichever comes sooner. ToyotaCare also includes Roadside Assistance for up to two full years with unlimited mileage. This truly is a warranty program with which you can have peace of mind.
What's Included in the No Cost Maintenance Program?
One of the most widely used features of ToyotaCare is the No Cost Maintenance Program. You'll enjoy receiving maintenance reminders that can help ensure your vehicle's maintenance stays up to date. This program includes many great features consisting of:
Tire rotations

Multi-point inspections

Adjust and inspect fluid levels

Engine oil and filter changes
You can redeem your free maintenance services at our Toyota dealership in Cumming. This means your car will only be worked on by a Toyota-trained technician. All parts utilized will be genuine OEM Toyota parts. There are no aftermarket parts offered as part of ToyotaCare.
Typical Toyota Maintenance Schedule
Toyota wants to ensure that its family receives top-quality maintenance service to keep their vehicles in tip-top shape. This is why they cover free maintenance services broken down conveniently into five different appointments.
Your first free maintenance appointment should be scheduled when your vehicle hits 5,000 miles. This will be close to six months after purchasing your new Toyota. This first service appointment includes tire rotation, inspection and adjustment of fluid levels, and a multi-point inspection.
When your vehicle hits 10,000 miles, it's time to schedule another maintenance appointment. This should happen about a year after you purchase your Toyota. This maintenance appointment will include an engine oil and filter change, tire rotation, multi-point inspection, and the inspection and adjustment of fluid levels.
At 15,000 miles, you'll need to schedule your Toyota for a maintenance appointment. This will be around 18 months after your purchase date. This maintenance appointment includes a multi-point inspection, inspection and adjustment of fluid levels, and tire rotation.
When your Toyota reaches 20,000 miles, which will be near the 24-month mark, it's time to set up another appointment. The complimentary maintenance for this appointment includes:
An engine oil and filter change.

Tire rotation.

Multi-point inspection.

Inspection and adjustment of fluid levels.
When your Toyota reaches 25,000 miles, your ToyotaCare warranty will be over. Just before this happens, you can enjoy another free maintenance appointment that includes tire rotation, a multi-point inspection, and inspection and adjustment of fluid levels.
Roadside Assistance
Another outstanding component of ToyotaCare is Roadside Assistance. This will provide you with a lot of peace of mind every time you hit the road. ToyotaCare Roadside Assistance covers many services, including:
Lockout protection

Battery jump-starts

Emergency fuel delivery

Tire service

Towing

Winching
Unlike other roadside assistance programs, ToyotaCare covers towing for unlimited miles. You can rest assured that you'll get towed to a local Toyota dealership, where you can get your vehicle serviced by a trained technician with genuine parts.
Call Us Today
If you're interested in test driving a new Toyota, or you want to learn more about your ToyotaCare coverage, contact Rice Toyota today. Our helpful sales associates will ensure that you get the information you need to make an informed purchasing decision.